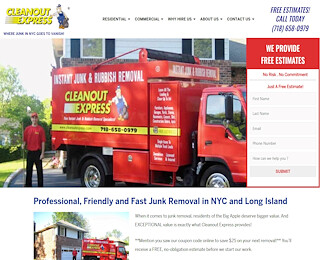 If you're stressing about how you're going to get that sofa out of your living room and down to the recycle center- call Cleanout Express. Their professionals specialize in furniture removal- and no sofa is too big, heavy or awkward for them to handle.
Tired of looking at your old sofa? If you've purchased a new sofa and are trying to figure out how you're going to get rid of the old one, just call Cleanout Express at 718-658-0979 and let their experts take care of your sofa removal in NYC. They can even provide same day service so you can get your new furniture in quickly and get on with your life.
Why struggle? You have better things to do than to wrestle your sofa out the door and then try to figure out how to dispose of it. This is what Cleanout Express does! They're certified in maneuvering and handling the removal of your furniture- no matter how large, heavy or difficult it may be to remove. In fact, sofa removal throughout NYC is one of the major reasons why customers call Cleanout Express.
In most cases, Cleanout Express can remove your furniture same day- all you have to do is give them a call at 718-658-0979. Whether you have old, beat-up furniture, oversized armoires, sofas, couches, tables, dressers, loveseats or other unwanted furniture that you don't know how to get rid of, they'll come in and promptly remove whatever it is.
Often, during an estate cleanout there is large furniture that is left over, even after an estate sale. Items that don't sell have to be removed before a home can be put back on the market or moved into. If you have some items to get rid of or need furniture or sofa removal in your NYC home, call today and Cleanout Express may be able to remove them same day for you.
Cleanout Express will provide a free quote before any service begins. Their professional trained team will arrive in clean uniforms, driving a clean, fully-equipped rubbish removal truck. You simple indicate the items that you want removed and leave the rest to them! When the job is complete, they'll even sweep up any mess left behind. For sofa removal in your NYC home, they'll be in and out quickly so that your life will hardly be interrupted.
Don't waste time calling around when the most affordable sofa removal service in all of NYC is right here. Cleanout Express is ready to meet your needs and can handle any size job. There's no risk and no commitment, just a free estimate when you call 718-658-0979.
You can also visit online at cleanoutexpress.com, where you can learn more about the services that Cleanout Express provides to Queens, Manhattan, the Bronx, Brooklyn, Staten Island and Long Island. Call the professionals. They'll handle your sofa removal in NYC, and be on their way.
Sofa Removal Nyc