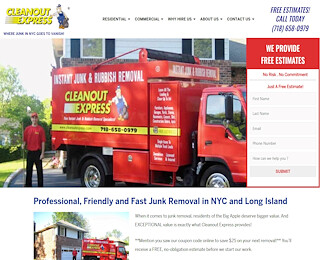 Cleanout Express provides furniture removal in NYC at a low cost, specializing in removing furniture that is no longer needed or wanted. Their professionals make every effort to donate your unwanted furniture so it can be cleaned and reused for someone else.
Most furniture is heavy and awkward to move. The experts from Cleanout Express are certified professionals in maneuvering and handling the removal of any kind of furniture, large or small, heavy or awkward, up or down the steps, no problem. It's one of the reasons why locals have come to rely on their services!
In most instances Celanout Express can provide furniture removal in your NYC home or business same-day- just call, schedule and book your appointment for your furniture to be removed. You'll be provided with a time frame and their staff will arrive with a truck, in uniform and sweep the area clean after they remove your piece of furniture.
Cleanout Express makes the process as easy as 1-2-3 when removing furniture of any kind, including couches that are too big to get out, sofas, loveseats, dressers, armoires, any kind of old beat-up furniture that you want to get rid of.
If you're facing an estate cleanout, don't stress. What looks like an overwhelming job to you is just business as usual for the professionals from Cleanout Express. Furniture removal for your NYC estate cleanout is just another service that Cleanout Express provides to the community.
Cleanout Express' furniture removal in NYC will do everything it takes to help you remove clutter from a home, prepare a home for sale, or making a house more livable and accessible to the occupants who already live there. They have helped thousands of homeowners and relatives dispose of clutter or junk from their homes throughout Manhattan, Brooklyn, & Queens, Bronx, and Nassau County
Cleanout Express understands that life's difficult moments can seem overwhelming. Whether it's a loved one who is leaving their family home, downsizing, or the daunting task of emptying a deceased relative's home, apartment or other property, their professional staff is understanding and patient during the estate or moving process, and will make sure the work is done respectfully, quickly and with great care.
Cleanout Express is on-time, reliable and understands the importance of providing caring and professional work. Whether you need all the contents of a property removed, assistance sorting out certain items you need removed, or simple need furniture removal in your NYC home, they can help.
The staff from Cleanout Express is passionate about the environment and recycles over 60% of the materials that they remove from homes and businesses. The remaining items are properly disposed of at a disposal transfer station. They remove just about everything except for hazardous materials.
To find out more about how Cleanout Express can help with furniture removal throughout NYC, please call 718-658-0979, or visit online at cleanoutexpress.com. You'll be glad you called the experts who can handle the job quickly and efficiently- so you can get on with your life.
Furniture Removal Nyc