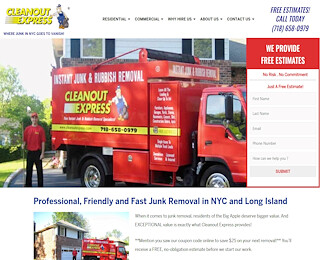 If you're handling a foreclosure and need a fast, reliable cleanup crew to come in and get rid of junk, trash, rubbish or other items left behind, contact Cleanout Express, for a professional job completed in a timely manner. Cleanout Express makes foreclosure management simple in Queens, Brooklyn, Manhattan, The Bronx, Staten Island and Long Island.
Foreclosure cleanup comes in all shapes and sizes – rest assured the experts from Cleanout Express can remove single items to multiple truck loads and they'll collect the debris from wherever it's located on the property. With full coverage anywhere in NYC, Cleanout Express provides full customer service.
Whether you are a real estate agent, bank, or asset management company, the professionals can handle all of your clean up and clean out needs. With all-inclusive service, up-front prices and convenient scheduling, you do not have to worry about a thing during your foreclosure, just leave the junk Cleanup service up to the experts.
To schedule your
foreclosure cleanup
estimate please complete the short form on the website at cleanoutexpress.com or contact Cleanout Express for pricing by calling (718) 658-0979.
Whether your foreclosure cleanup entails a few unwanted items that have been left behind, or a complete building or warehouse filled with junk, there's no job that's too big or small for Cleanout Express to manage. NYC clients have come to rely on the professionals for trash and junk disposal. They'll come to your business, home or other building or site area, provide you with an up-front, no obligation, free estimate to remove and haul away your unwanted items, and get to work.
What sets Cleanout Express apart from other foreclosure cleanup crews:
– Fully insured, including general liability and workers' compensation in NY
– Can provide you with same day and off-hour service including weekends
– Will remove your junk wherever it's located on the property
– You don't have to bring any items to the curb
– The experts do all the heavy lifting
– You only pay for what they take away
– Whenever possible, they recycle what they take away
– Your employees can focus on what they do best
If you're going through a foreclosure and you need reliable, quick cleanup, don't waste time calling around- call the company that can meet your needs, with affordable and fast service that you'll be 100% satisfied with. Call Cleanout Express to get your property ready to go back on the market. They'll remove all the items you indicate, including carpets or any trash you need to have removed to make it ready to show or move in.
Cleanout Express of NYC has transformed the image of rubbish collection and debris removal with uniformed, personable, staff and bright, clean red trucks. They offer free, on-site junk removal estimates and can schedule your appointment quickly. Cleanout Express arrives on time and calls in advance to notify you that they are on the way. Their service areas include Queens, Brooklyn, Manhattan, New York City and Nassau County Long Island.
For exceptional foreclosure cleanup service in and around NYC, call on the professionals from Cleanout Express at 718-658-0979, and rest easy knowing that the job will be done right.