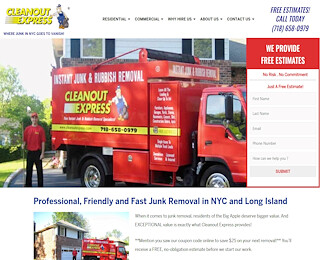 If you have bed bug infested furniture that needs to be eliminated from your home, call the experts from Cleanout Express. They provide
bed bug furniture removal
for homes and hotels that have mattresses and other furniture that has to be hauled away.
Cleanout Express will come to you and remove bedbug infested mattresses and furniture, seal and tape everything to prevent spreading and infesting other areas and prevent cross contamination. They provide carpet removal as well, so if you are unsure of anything just ask, most likely they will remove it.
Bed bugs are no longer considered a pest of the olden days, or a problem of the poor or untidy. Bed bugs inhabit many homes and hotels throughout the entire country- and not just ones that are unkempt. It only takes one bed bug to enter your home or living arrangement to quickly turn into a problem, and if not promptly dealt with, a bed bug problem can very quickly turn into an infestation.
Bed bug furniture removal is one of the most difficult services to find in NYC. Customers are grateful that Cleanout Express provides this service to clients throughout all of Manhattan, Queens, the Bronx, Brooklyn, Staten Island and Long Island. Their affordable bed bug furniture removal service will take care of the problem so you can get on with your life.
Don't waste your time calling around to furniture removal companies that aren't sure how to deal with bedbugs. They may get rid of your furniture but leave the problem behind to re-infest your new furniture. Let the experts from Cleanout Express handle it. With experience in bed bug furniture removal throughout all of NYC, they know how to deal with these pests.
Sometimes, clutter and hoarded items must be removed as well as furniture in order to better manage a bedbug infestation. If a relative or tenant has been hoarding large amounts of worthless items that have gotten infested with bedbugs, call the professionals from Cleanout Express to help you get the situation under control. You can call for the removal of a single mattress, a few pieces of furniture, or entire homes filled with items.
Professionals from Cleanout Express can sort, bag and remove junk, clean out garages, basements, attics, apartments, stores, hotels, warehouses, homes and much more. For bed bug infestations, they're able to remove any and everything you indicate, and dispose of it responsibly and promptly.
If you have a storage unit or an entire building of units that have been infested with bed bugs, don't stress. Call the local company that knows how to deal with the problem. Cleanout Express will arrive promptly, offer you a free quote for the entire job, and if necessary, get to work right away to take care of the problem. You'll rest easy knowing that the infested items will be disposed of so you can move on.
Call the experts from Cleanout Express at 718-658-0979. For emergency bed bug furniture removal, the professionals can provide same day service. They know you want bed bugs gone now- and can handle the job.